Friday Night Prime Time basketball series underway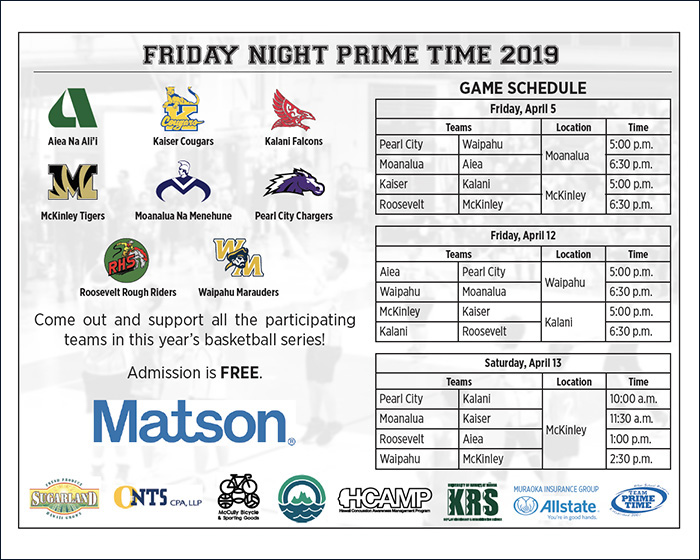 Friday Night Prime Time is a basketball series that features eight teams competing over the course of two weekends, providing interscholastic athletic participation and opportunities for students with special needs and those at-risk.
The program is now in its fourth year thanks to funding and support from Matson (title sponsor), Allstate - Muraoka Insurance Group, Sugarland Fresh Produce, McCully Bicycle and Sporting Goods, University of Hawaii - College of Education's Hawaii Concussion Awareness & Management Program and Kinesiology Department, University of Hawaii – Student Recreation Services, Oahu Interscholastic Association, ONTS CPA, and Team Prime Time Sports (Los Angeles, CA). Through these supporting organizations, the program has provided transportation to game sites, rental fees, score keepers, school uniforms, and equipment.
Admission is free for those wishing to attend games. Schedule for this year's series is as follows:
April 5
at Moanalua HS
5:00 p.m. - Pearl City vs. Waipahu
6:30 p.m. - Moanalua vs. Aiea
at McKinley HS
5:00 p.m. - Kaiser vs. Kalani
6:30 p.m. - Roosevelt vs. McKinley
April 12
at Waipahu HS
5:00 p.m. - Aiea vs. Pearl City
6:30 p.m. - Waipahu vs. Moanalua
at Kalani HS
5:00 p.m. - McKinley vs. Kaiser
6:30 p.m. - Kalani vs. Roosevelt
April 13
at McKinley HS
10:00 p.m. - Pearl City vs. Kalani
11:30 .m. - Moanalua vs. Kaiser
1:00 p.m. - Roosevelt vs. Aiea
2:30 p.m. - Waipahu vs. McKinley