Annual summit headlines 2018 'Concussion Week'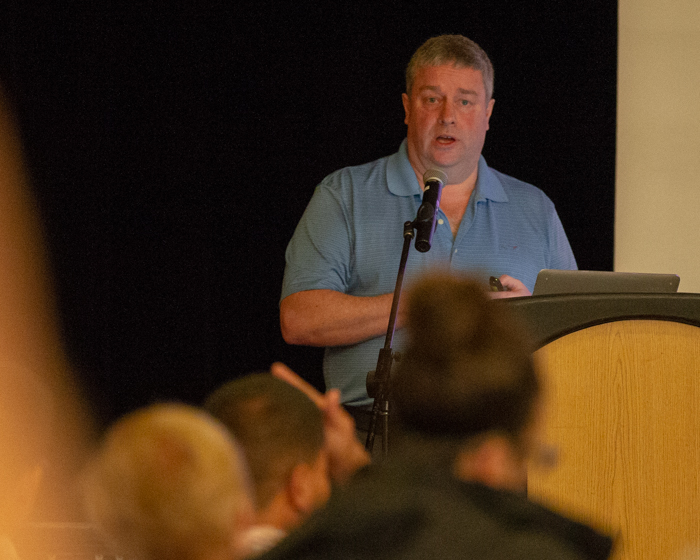 HCAMP's 9th annual Concussion Summit capped off a busy week that included a Return to Learn workshop at Saint Louis School and a Community Concussion Workshop at McKinley High School.
Held on July 13-14, the 2018 edition of the summit, presented by the Queen's Center for Sports Medicine, covered a range of topics including implementation of Return to Learn and early Return to Activity, as well as early specialization in sports, overuse injuries and possible preventative measures.
Over 120 participants attended the two-day summit, which featured visiting speakers Paul McCrory, Neeru Jayanthi, Karen McAvoy, and Emily Kosderka, as well as Hawaii faculty, including Gregory Johnson and Kellen Kashiwa.
'Concussion Week' started off on Wednesday with a workshop on Return to Learn strategies, Supporting Students with Concussions in the Classroom, presented by Karen McAvoy.
The two-day course was held at Saint Louis School's Clarence T.C. Ching Learning and Technology Center, and an audience of athletic trainers, school psychologists, counselors, and curriculum coordinators from the Department of Education participated in the course, designed to better the attendee's knowledge of concussions, help their teachers identify if a student is suspected of having a concussion, and accommodate concussed students in an appropriate manner.
Dr. McAvoy, author or REAP, or Remove/Reduce, Educate, Adjust/Accommodate and Pace, shared her mission, to empower educators to take control over how concussions are handled in their classrooms.
McKinley High School's Hirata Hall also saw over 140 attend HCAMP's free annual Community Concussion Workshop, which featured talks on concussions and heat illness geared towards youth and high school coaches, parents, officials, educators and administrators.