Pair of events highlight HCAMP 'Concussion Week'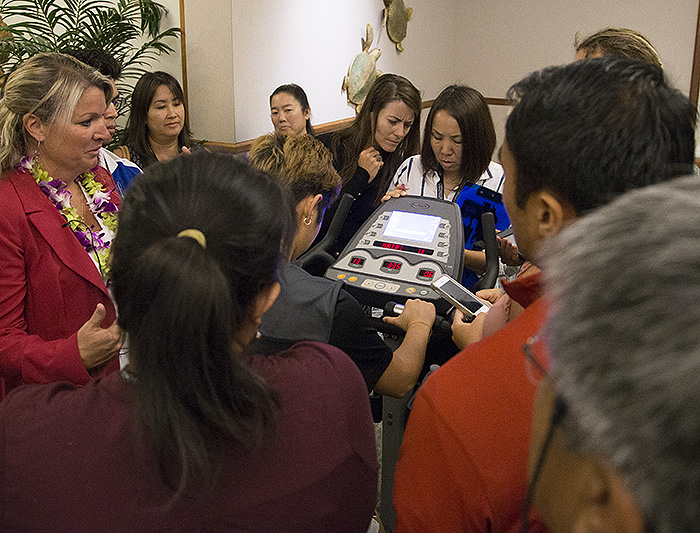 Over 140 physicians, athletic trainers and other medical professionals attended the Concussion Summit 2017 presented by the Queen's Center for Sports Medicine, while another 150 gathered at Farrington High School Auditorium for the seventh annual Community Concussion Workshop.
The Concussion Summit, held on Saturday, July 17, featured guest faculty Dr. John J Leddy, Professor of Clincial Orthopaedics and Rehabilitation Sciences at the State University of New York at Buffalo, and Emily M. Kosderka, Assistant Professor of Exercise and Sport Sciences at Concordia University.
Leddy and Kosderka presented the application and implementation of the Buffalo Concussion Treadmill Test (BCTT), a controlled subthreshold activity used in the treatment of symptomatic concussed patients. The application of the BCTT as a differential diagonsis can help decrease symptoms and address physiological treatment needs as opposed to the recommendation of complete physical and cognitive rest.
Attendees were also able to view subthreshold aerobic activity utilizing a stationary ergometer demonstrated in a lab format.
Also presenting at the summit were HCAMP's Nathan Murata and Dr. Rachel Coel, David Kurihara and Ryan Moore of the Queen's Center for Sports Medicine. Murata provided attendees background on Hawaii's Concussion Law, Coel covered the topic of when to refer a patient to a concussion specialist as a primary care provider, and Kurihara and Moore discussed the utilization of vestibular rehabilitation in the treatment and assessment of concussed patients.
Kicking off the week was the seventh annual Community Concussion Workshop, held at Farrington High School Auditorium on Thursday, July 15. Nearly 150 were in attendance, including coaches, officials, educatiors, administrators, parents and others interested in learning more about concussions.
Speakers included Dr. Benjamin Chun (Kaiser Permanente), Dr. Jennifer King (Kapiolani Orthopedic Associates) and Coel, who covered a number of topics, including concussion recognition, return to play and return to play protocols, cases of concussions in Hawaii, and heat illness.