Ten years of HCAMP celebrated at 2019 summit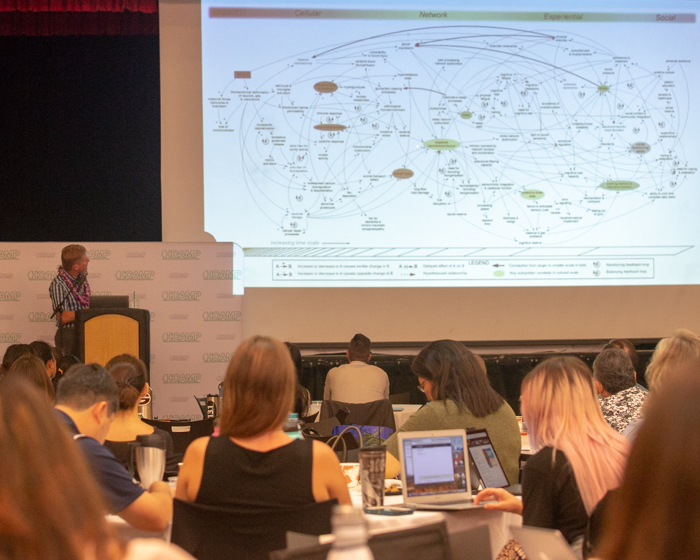 HCAMP's 10th annual Concussion Summit took place on July 12-13 at the University of Hawaii's Campus Center Ballroom and was presented by the State of Hawaii Department of Health, University of Hawaii, College of Education, HCAMP and the Queen's Center for Sports Medicine.
The two-day conference covered a range of topics including the Dynamic Model of Concussion, the current landscape of concussion litigation and best practices to prevent organizational liability, the multidisciplinary team approach to treating concussions, and more.
Over 120 participants attended the summit, which featured visiting speakers James Chesnutt, David Howell, David Kracke, McKay Sohlberg and Erik Swartz, as well as Hawaii faculty, including Bret Freemyer, Benjamin Chun and William Tsushima.
During a brief ceremony, the following individuals were honored were for key contributions made in support of HCAMP and a strong commitment to the health and safety of our active communities in Hawaii.
They are, in alphabetical order:
Aaron Arakaki
Rep. Della Au Bellati
Don Botelho
Dr. Benjamin Chun
Dr. Rachel Coel
Christopher Chun
Raymond Fujino
Blane Gaison
Georges Gilbert
Curtis Inouye
Dr. Jennifer King
Dr. Christina Kishimioto
Alison Kuramoto-Wolff
Wendie Lino
Rep. Scott Nishimoto
Dr. Gale Prentis
Sen. Jill Tokuda
Dwight Toyama
Dr. William Tsushima
Rep. Ryan Yamane
Hawaii high school Athletic Trainers statewide were also presented with Certificates of Appreciation for their dedication and work in raising the standard of care for concussed student athletes.